To look at the production team at Oregon Spirit Distillers, you'll find a story of how amazing spirits aren't simply made. World-class spirits are a product of a solid worth ethic and a growth mindset. Many of us worked our way up in the production department due to that solid work ethic, an unwavering commitment to quality, and most importantly, an enthusiasm for learning. We humbly nod to those who showed us the way, their ability to teach, and a willingness to share.
We are thankful for the body of knowledge created and passed down from generations of distillers that helps us make traditional and authentic spirits from scratch and by the senses. Our goals are lofty, and we accomplish them because of our strong team dynamic. It's in our name, we are the spirit distillers of Oregon Spirit Distillers. We are proud to work together and make spirits we love to enjoy.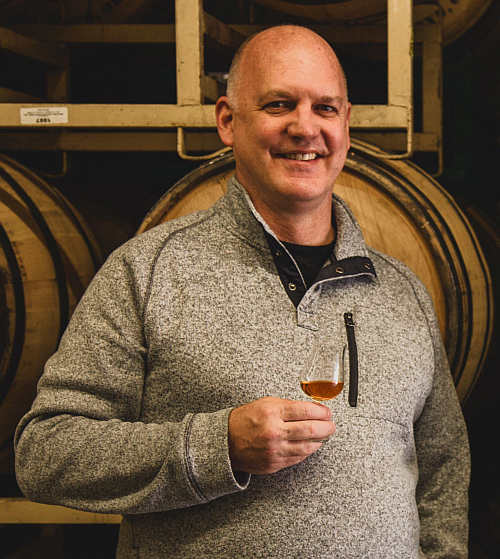 BRAD IRWIN
Owner
Whiskey has three main ingredients: grain, water, and passion. Brad found a natural bounty of all three in his hometown of Bend, Oregon.
In 2009, Brad and his wife Kathy embarked on the journey that would eventually create Central Oregon's first grain to glass whiskey distillery. Local high desert grain and mountain water were easy to source. The region's unique climate provided plenty of corn, barley, wheat, and rye. Crisp and pure water from the Cascade Mountains was abundant. Brad's passion for history, tradition, and quality is delivered in every drop that Oregon Spirit Distillers produces.
After 10 years in the role of Head Distiller, Brad has passed the honor to his carefully selected distilling team. As the owner, he can now focus on growing Oregon Spirit Distillers as a national brand and make time for his other passion, his family.
BRANDY PIEPER
Head Distiller / Production Manager
Brandy moved to Bend in 2016 and joined the Oregon Spirit Distillers team. She graduated from the University of Tennessee with a BS in Biology. Prior to moving west, she worked in food microbiology and made dinnerware for a pottery studio. Her role as Head Distiller and Production Manager is the perfect blend of her scientific and creative backgrounds.
As Head Distiller, Brandy loves to create things that people enjoy. She develops new products, selects the single barrels for our Bottled in Bond whiskey, and explores possibility in the small batch Hawthorne Series releases. As Production Manager, Brandy is responsible for annual production planning and leading the team of distillers, production assistants, and blenders.
When she's not championing workplace culture with enthusiasm, Brandy's passion is cooking and all things food. Her skills in the kitchen also serve to fuel her outdoor pursuits, which include skiing, snowboarding, and bike touring. Her favorite labor of love to enjoy is a neat pour of Oregon Spirit Distillers Rye Whiskey.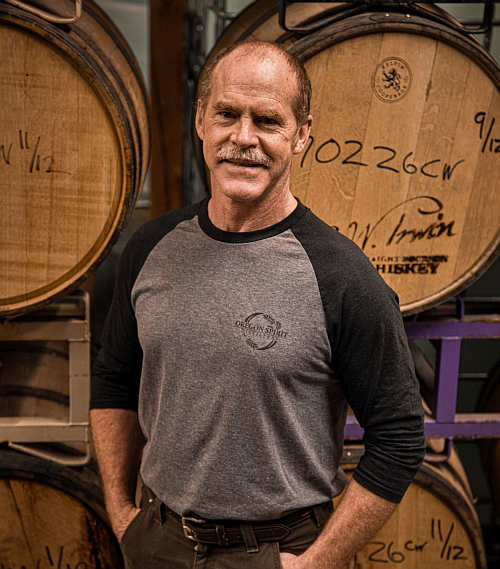 MICHAEL MAY
Lead Distiller
Michael originally hails from Ohio, where he earned a BS in Chemical Engineering before embarking on a career dedicated to Health, Safety and Environmental Engineering. He joined the Oregon Spirit Distillers team to happily fulfill his passion for fermentation. Leaving behind an epic journey in the environmental field – investigating and cleaning up toxic, hazardous, and radioactive waste sites, he finally is able to relax and measure the product of his work…thankfully, by taste in this job.
Michael is the Lead Distiller for Oregon Spirit Distillers. He supervises floor operations and project management in production. When it comes to quality control, safety, and compliance, his professional background has brought invaluable expertise to support the distillery's future.
When he's not making spirits, Michael loves to travel – exploring the desert landscapes, waterfalls, mountain trails, and ocean vistas. His Oregon Spirit Distillers drink of choice: Corpse Reviver #2.
TANNER TISDEL
Production Distiller
Tanner is a native Oregonian. He was born in Portland and raised in Bend. As an adult, he's always worked in and around the alcohol industry. His career at Oregon Spirit Distillers began on the bottling line. Here he became familiar with the final stages of the production process: filling, labeling, and sealing all our products by hand. With passion and a solid attitude, he worked his way from the ground up to Production Distiller and now oversees the distilling process on a daily basis.
When he's not watching the still, you can find him keeping an eye on his ducks and chickens at home. Tanner also enjoys mountain biking and hiking followed by his favorite drink: an Oregon Spirit Distillers Wheat Whiskey on the rocks.