THE HAWTHORNE SERIES
Welcome to the neighborhood! In the heart of midtown Bend, Oregon we make premium whiskey and spirits on the corner of NE Hawthorne Avenue and NE 1st Street.
Here we honor our location by releasing distillery exclusive spirits. The Hawthorne Series is a celebration of unique, small-batch whiskeys and spirits. These single barrel projects explore possibility through collaboration and creativity in distilling.
Guided by our community values, we repurpose casks and partner with businesses that range from coffee roasters to winemakers in our region. We use these locally sourced ingredients and materials to produce limited editions that cannot be found outside of the distillery's bottle shop.
Available in limited batches.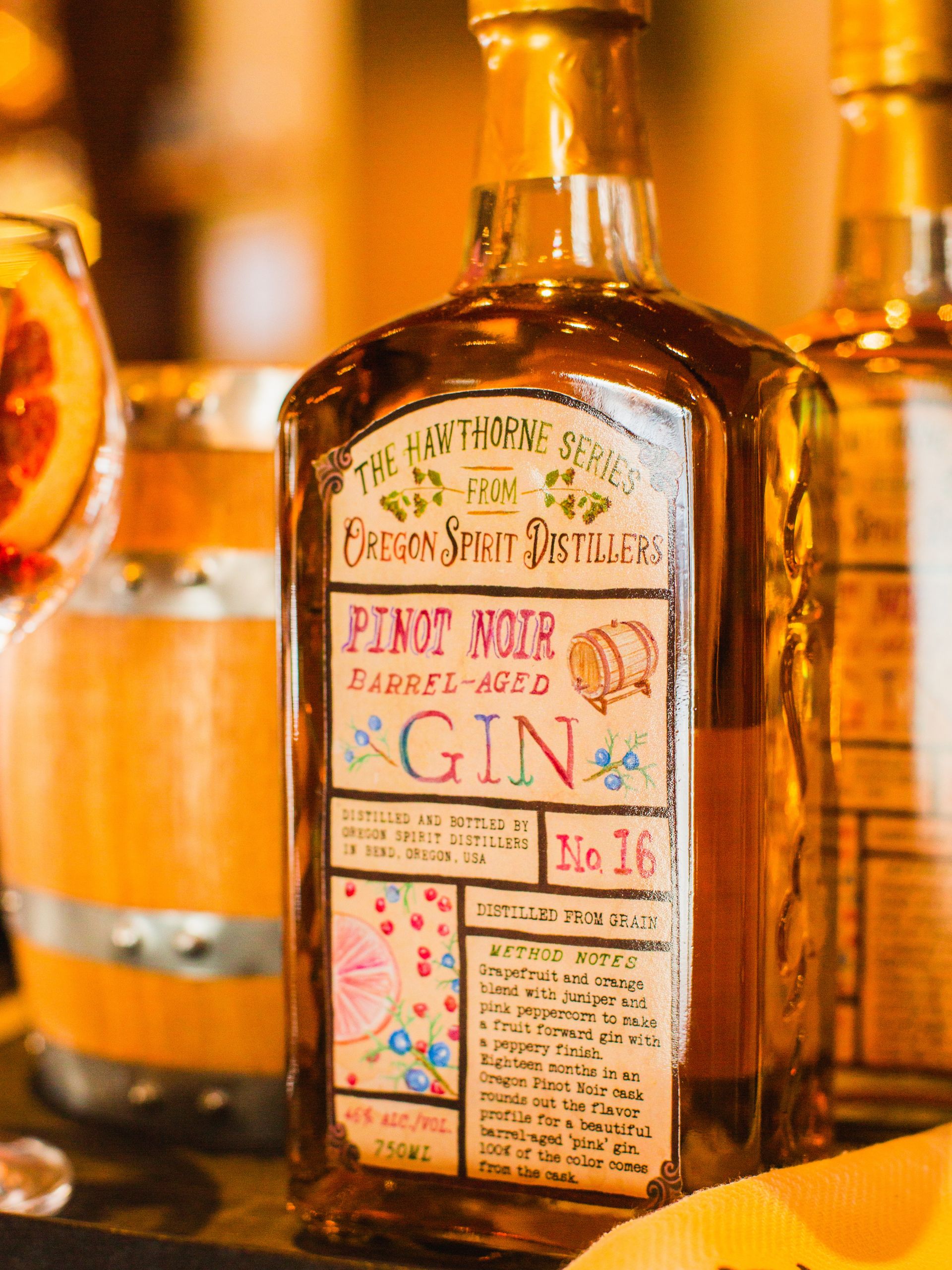 Pinot Noir Barrel-Aged Gin
PINOT-NOIR BARREL AGED GIN
Introducing the 16th Hawthorne in our series: Pinot Noir Barrel-Aged Gin! This "pink" gin beautifully blends notes of citrus, pink peppercorn and Oregon wine to create a fruity flavor profile with a lingering, peppery finish. It is aged eighteen months in Oregon Pinot Noir barrels, which lend to 100% of its color. Stop by the Tasting Room to have a sample or try it in a cocktail.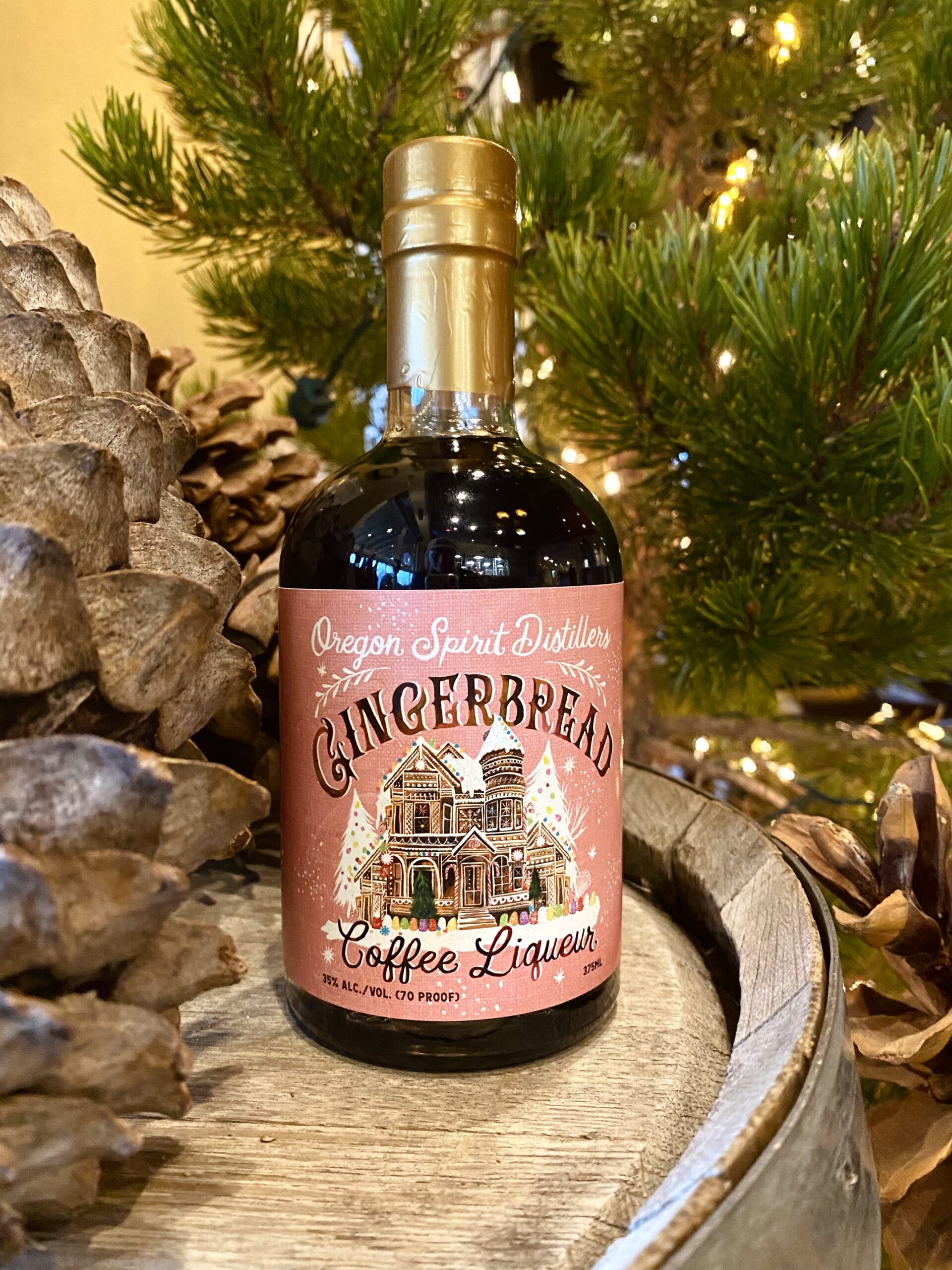 Gingerbread Coffee Liqueur
GINGERBREAD COFFEE LIQUEUR
This year's iteration of our coffee liqueur features cozy spices from Meadowland Simple Syrup's Gingerbread Syrup. Rich cold brewed coffee from Bellatazza Coffee in Bend blends beautifully with the warm gingerbread spices, making it the perfect sipper or addition to a cocktail. Make this Coffee Liqueur your go-to treat for the holidays!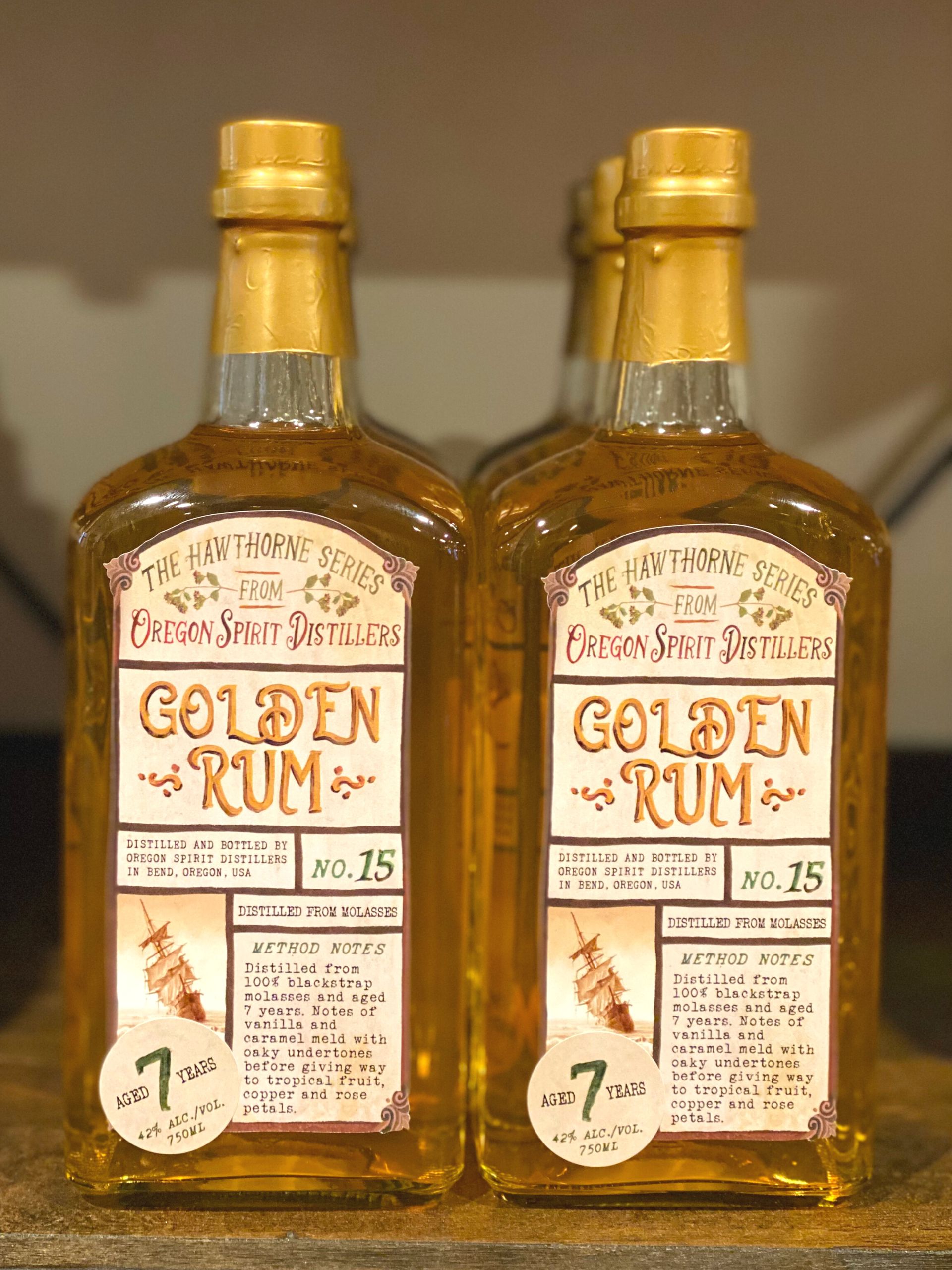 Golden Rum
GOLDEN RUM
Number 15 in our Hawthorne series is a delicious rum distilled from 100% blackstrap molasses. Aged 7 years in Bend, OR, it boasts notes of vanilla and caramel that give way to tropical fruits, copper, and rose petals. This rum is perfect for sipping on its own or blending into classic cocktails.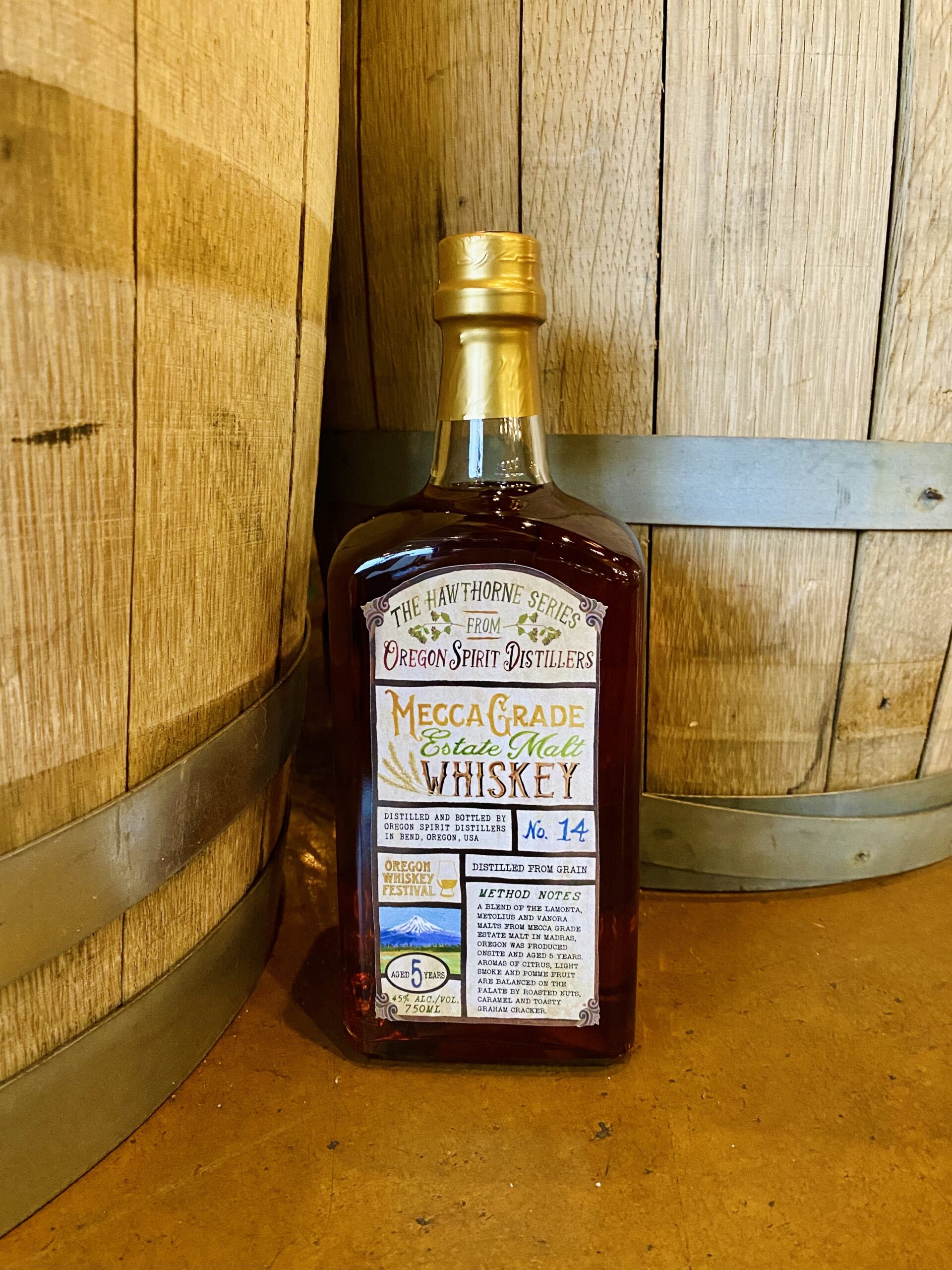 MECCA GRADE ESTATE MALT
MECCA GRADE ESTATE MALT WHISKEY
This five-year-old whiskey is a fusion of Lamonta, Metolius, and Vanora malt from Mecca Grade Estate Malt in Madras, OR. The blend of these three exquisite local malts combines to create a whiskey that is as rich as it is balanced. With aromas of citrus, pome fruit, and light smoke on the nose and roasted nuts, caramel, chocolate, and graham cracker on the palate, this whiskey is perfect for any occasion.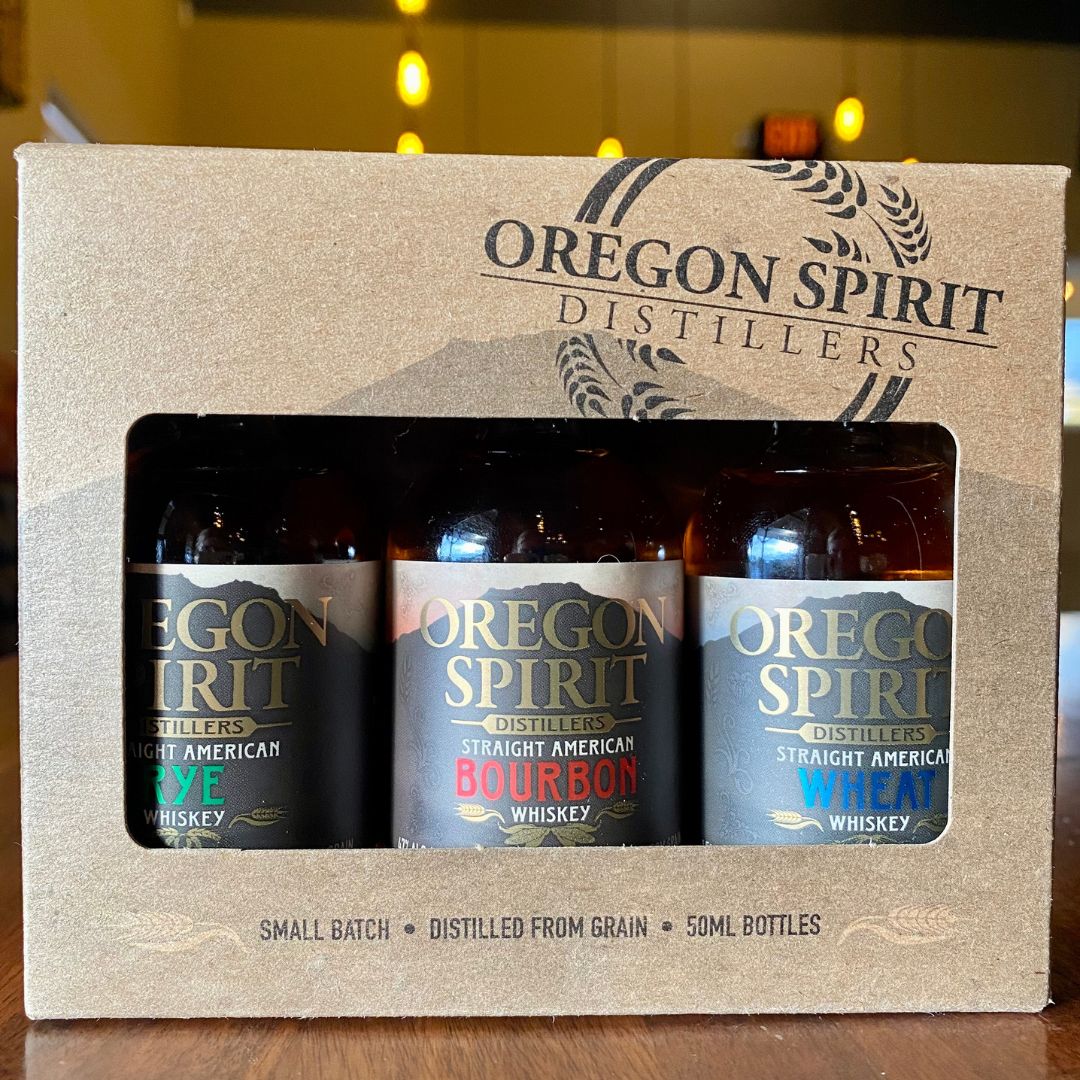 50ml Whiskey Sampler
50ML WHISKEY SAMPLER PACK
This pack of three 50ml bottles, featuring Oregon Spirit Distillers Bourbon, Wheat and Rye whiskey, is the perfect sampler pack of our flagship products. Great for anyone interested in trying products before buying a full bottle, as a gift for a whiskey-lover, or as an introduction to varying types of whiskey, this sampler pack is perfect for a variety of uses. Stop by the Tasting Room to pick yours up!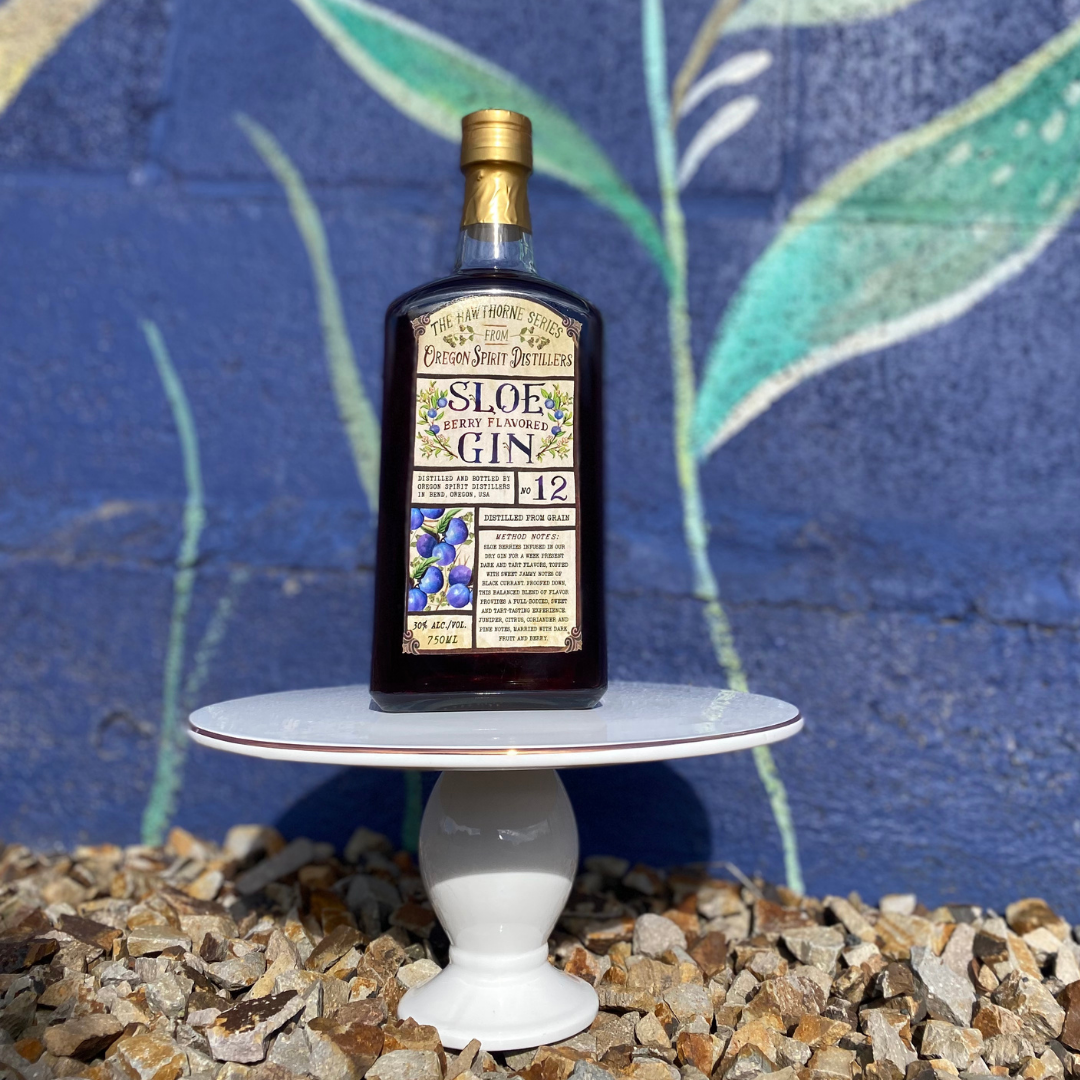 SLOE GIN
Sloe Berries infused in our Oregon Spirit Dry Gin for a week present dark and tart flavors, topped with sweet jammy notes of black currant. Proofed down, this balanced blend of flavor provides a full-bodied, sweet and tart tasting experience. Juniper, citrus, coriander and pine notes, married with dark fruit and berry.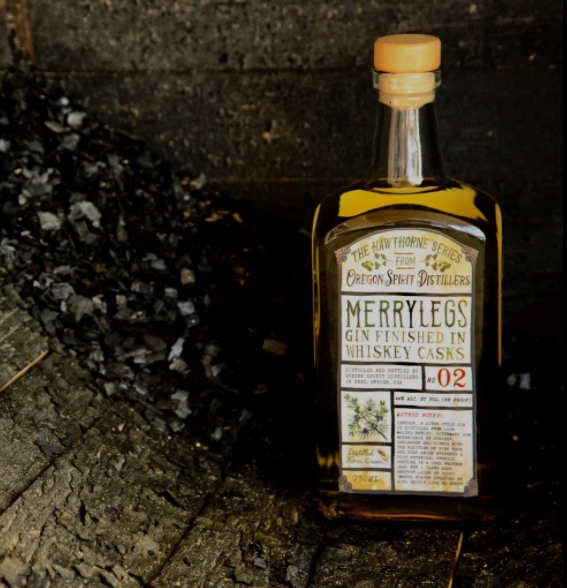 Aged Merrylegs Genever Gin
AGED MERRYLEGS
What happens to our Merrylegs Genever after it rests in an ex-bourbon barrel for 5 years? The spirit changes to a pale honey hue, and the delicate botanicals are given a deep, earthy makeover. Our Aged Merrylegs has aromas of grass and licorice, and a floral earthiness on the tongue. Sippable, or use to replace tequila in your preferred margarita recipe.